Aqualandia – one of Benidorm's water Parks open every summer season to the delight of young, old, families and teens.
When Aqualandia opened in 1985 it was the first of its kind in Spain.  Covering 150,000 square metres the water park has everything you need for a great day out, whether with family or friends.
There are areas especially designed for young children plus all the pools, slides and attractions that you will never tire of and want to repeat many times throughout the day.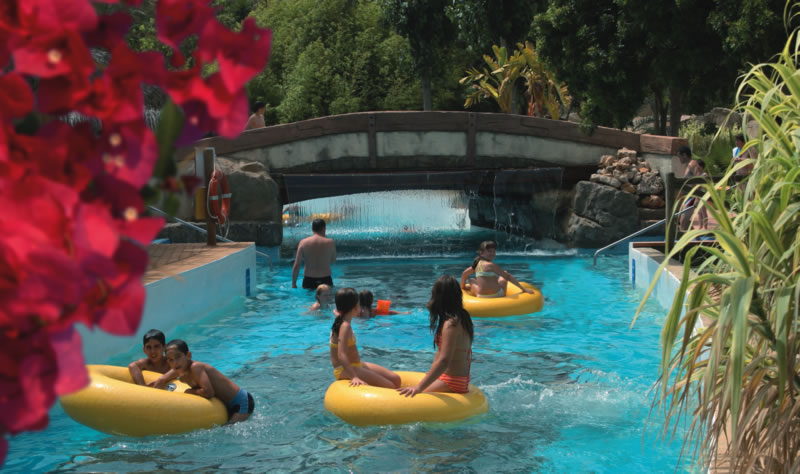 The park has picnic areas and restaurants offering everything from a three course meal to pizzas, burgers and BBQ, ice creams, soft drinks and coffee.  There is a changing area with lockers to store your clothes in, showers, a cash dispenser, a currency exchange service and a first aid post located by the snack bar with a doctor and nurse on duty and daily shows in the amphitheatre. 
Lifeguards are clearly visible at all the rides and pools and they will inform you of the correct posture to take on each ride.  Some of the rides have a height limit for children on their own 1.20m or 1.25m depending on the ride.   
There are slides and attraction to suit all tastes.  Take a ride down the Rapids:  twisting and turning along the route as you float on a giant inflatable ring carried along by a current.   
The Black Hole -  an adventure you can take alone or with a friend  through a black tube, sliding down in  the dark on a single or double float.
Another popular area in the park is the wave pool, surrounded by sun beds with shaded areas the depth is gradual.    At regular intervals the wave machine is activated creating waves in the pool just like the sea.
The Amazon circuits the park and has a gentle current to carry you along, so just  lie back and drift along or hire one of the giant rings for the day to use on all the rides and attractions.
Splash – travel down the slide head first on a special mat.  Feel the thrill, the speed and make a splash!
The Big Bang is the only one of its kind in Europe.  Three different slides of varying heights the highest one allows you to experience a free fall - a must for thrill seekers!!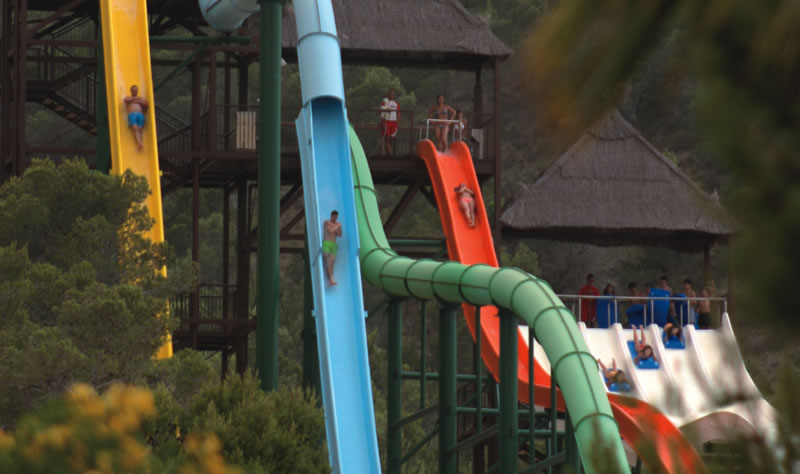 If you love speed, the Kamikazi is is the ride for you.   Hurtle down one of these two slides.  If you enjoyed the first one then try the other! 
Zig Zag.  Five slides to try each one slightly different from the last.
The mini Zig Zag is perfect for children, even better is that mum and dad can slide down with them.
Niagara is a large pool with waterfalls, caves and an area to permit bathing for people with disabilities. 
The Jacuzzi Iguazu is designed for you to relax, soak away the stress and take some time for yourselves.
The Lagoon is an adventure playground equipped with zip lines, nets, rings, and slides. 
Adventure land is the area specially designed for young children, shallow water with mini slides, ball pools, fountains and water features.
Pistas Blandas.  Five different slides made from a softer material than the others.  Try all of them to see which one you prefer. 
Aqualandia has attractions you will never get tired of and that you will repeat many times during the day, plus all the services you need to make a great family day out!  
One day tickets and combined tickets are on sale  now.  Click here to purchase yours.
Half day tickets are also available with entry from 15:00 hours-.  Half day, Family packs and group bookings only from our office : Benidorm Excursions Calle Gerona 48, 03503 Benidorm .