Benidorm island
is just two and a half nautical miles from the most cosmopolitan Spanish tourist resort
Benidorm.
It is centred in front of the Canfali, a headland which separates almost equally the two enormous fine sand beaches, the Levante Beach and Poniente Beach . The surface of the island is just six and a half hectares, 350 metres long, 260 wide and reaching a height of 73 metres.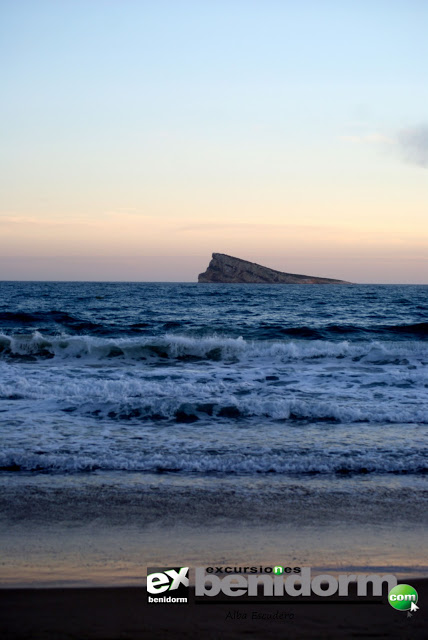 There are boat trips to the island departing from Benidorm Port and also from the Rincon de Loix in high season, boats depart hourly.  
The island is triangular in shape, can be clearly seen from any vantage point and has converted the surrounding landscape of the coast, to picture perfect.
Benidorm Island has a legend which tells the story of Roldan, son of Princess Bertha,  Charlemagne's sister,  who fell in love with a beautiful young girl.  The girl had a mysterious illness that had condemned her to death.  She could only be saved if the last rays of the sun could pass the enormous Puig Campana Mountain.  Roldan did not hesitate and armed with his sword "Durandarte" he attacked the giant mountain.  The piece of rock fell into the sea forming the island.
The legend , like all legends is beautiful, but geologists affirm that the island, along with the smaller island La Llosa is a continuation of the neighbouring Sierra Helada mountain that continues down under the sea and surfaces again forming the two islands.  The smaller island of La Llosa is almost completely submerged, at its highest point it is only 6 metres above the surface and its base is 30 metres deep.
Both islands are important marine reserves, protected because of the high ecological value to the area.  The plant life and birds that nest on the island are protected, for example the Audouin gull and the Cormorant amongst others, some of them making their nest in the cracks and caves of the cliffs.   Benidorm island is a paradise for divers as moray eels, octopus and sargo take refuge around its rocky base.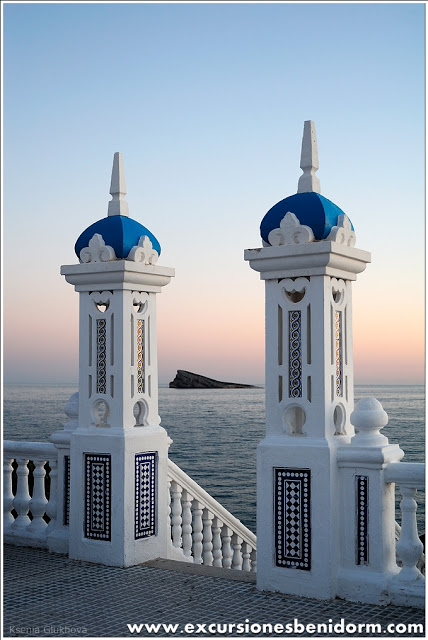 There is a path that enables you to walk to the top of the island and a restaurant opens daily, offering one of the best paellas in the area.  Benidorm island is not inhabited but at the beginning of the 19th Century a few hundred people fled to the island to escape a cholera epidemic in the area.
The island is also known as the Journalists' Island.  In the Town Hall archives there is a document dated 26th of May 1970 , signed by the then Mayor of Benidorm, Jaime Barcelo and the President of the  "Associated Spanish Press Federation", Lucio del Alamo.  In this document the Federation is appointed Patron of the island along with all Spanish journalists.
To purchase tickets for the boat trip to the Island or one of the other boat trips to Calpe or Tabarca Island, click here.
Take a look at some other photos of Benidorm Island
Watch our video of the boat trip to Benidorm Island.
Beniexcursions.
.