Details

Created: Monday, 01 July 2013 01:00
Try out the latest craze, the Flyboard, the ultimate in Flying Water Sports and Extreme Sports. 
The flyboard is a board attached to your feet then connected to a jet ski.  Water is propelled from the jet ski intake into the hose which is connected to the flyboard.   There are two jets under the board which provide 90% of the propulsion.  The jets on the hands are used to maintain balance rather like a ski pole.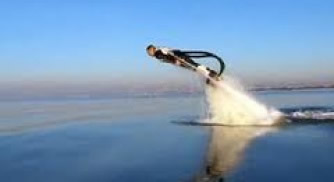 The flyboard operater on the jet ski, controls the speed and direction, while the rider uses his body weight to balance the board up, down, right and left.  The board permits you to dive under the water like a dolpin then fly,  propelled into the air like a bird.
No previous experience is needed, just balance.  An incredible experience! Mininum age limit 16 years. 
You can book the Flyboard direct from our office Benidorm Excursions - Excursiones Benidorm in the Calle Gerona 48, 03503.